Digital Skills & Innovation @2030 – International conference
July 11, 2018,
Inter Expo Center, Musala hall,
147, Tsarigradsko shose blvd., Sofia 1784
Preliminary announcement
Registration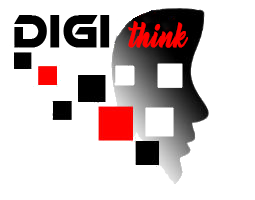 INTERNATIONAL CONFERENCE ON DESIGN THINKING AND DIGITAL INNOVATION
The main purpose of the 'Digital Skills & Innovation @2030' conference is to disseminate the results of the Erasmus+ project Design thinking for digital innovation – DigiThink, No. 2016-1-BG01-KA203-023719 and to present the approach of the project partners to implement new concepts, topics, teaching methodologies, syllabi, best practices and training materials in education and lifelong learning that are to create key competences and skills relevant to the digitalization and transformation processes in one knowledge economy.
The acceleration of the innovation cycle has become a critical factor for competitiveness and growth, and has also created the need for new job roles in organisations. Thus, innovative companies are forced to develop new sets of skills and knowledge for their staff (managers and workforce) such as empathy, openness to innovation, better understanding of customers and partners, creating partnerships, creativity, social value, etc. in order to be more competitive. These are the leading aspects for the discussions and presentations within the conference topics.
The target groups are IT specialists, managers, R&D experts, entrepreneurs, students, start-ups, management consultants, mentors, university & school professors, incubator and accelerator specialists, business developers and PR experts.
The panellists are managers from leading digital companies in Bulgaria and abroad, academicians and R&D managers, university professors, and well known entrepreneurs and business investors.
AGENDA
08:15 – 09:00     Registration
09:00 – 09:15     Opening – Prof. Stoyan Denchev, ULSIT
09:15 – 10:15     DigiThink: Design thinking for digital innovation, Erasmus+ project
Project results and pilot testing
– Jose Antonio Campos, PhD, Deusto University,
– Eugenia Kovatcheva, PhD, ULSIT
– Guide for implementation – Antonia Bierwirth, PhD, Tecnalia Research and Innovation
10:15 – 10:45     Coffee break
10:45 – 11:45     Panel 1 Digital skills. Moderator: Antonia Bierwirth, PhD

– Prof. Pencarelli, Design thinking and experience logic as a new perspective of marketing
– Bianca Muntean, Digital skills
– Deyan Doykov, Agile school
– Ljubomir Trаjkovski, GIRDA Game Play for Inspiring Digital Adoption
– Marieke Veltman, PhD, Developing wicked problem solving expertise in Higher Professional Education
11:45 – 12:45     Panel 2 Innovation and entrepreneurship. Moderator: Milena Koleva

– Carlos Polo Gil, Design thinking for software development
– Anita Jamasebi, Managing innovation inside a company
– Ewa Galeziowska, Changing the world of entrepreneurs through innovation
– Massimo Andriolo, 10x growth accelerator – IXLerator
12:45 – 13:45     Lunch
13:45 – 15:45     Innovation Management Academy Bulgaria hosts Accelerating Innovation workshop on the topic: Design thinking for smart city
15:45 – 16:00     Summary / Conclusion
16:00 – 17:30     Wine networking
For more information about the event, please CLICK HERE